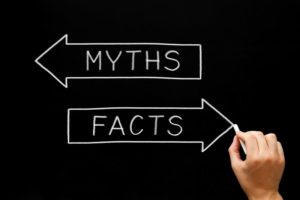 Thanks to the internet, we live in a world where we have easy access to information. Unfortunately, we also have easy access to misinformation, and it is not always easy to tell the difference between the two. For example, there are a lot of sources spreading untruths about various dental treatments. How can you learn the truth? Read this blog post to discover the reality behind 4 myths about tooth extractions.
Myth #1: Tooth Extractions Are Painful
Before the invention of modern dental techniques, getting a tooth removed could be extremely painful. Nowadays, though, things are different. In fact, the procedure is virtually painless. Local anesthesia can numb your mouth so the only sensation you may feel is some slight pressure.
After the anesthesia wears off, you can expect a degree of soreness. However, most patients are back to feeling normal within a few days to a couple of weeks.
Myth #2: You Do Not Need to Replace an Extracted Teeth
Because they want to save money, some people are reluctant to replace an extracted tooth. This attitude is especially common among individuals who lose one of their back teeth.
It is important to keep in mind, though, that tooth loss does more than affect the way your smile looks. It can cause your jawbone to deteriorate, allow your remaining teeth to drift out of place, and lead to future tooth loss. A dental implant can prevent such issues and keep your entire smile in great shape.
Myth #3: Extraction Is Always the Best Option for Infected Teeth
An infected tooth can cause a horrendous amount of pain. Eager for relief, some patients think that a tooth extraction is their only option.
The truth is that in many cases, root canal therapy can both save the tooth and put a stop to your pain. Typically, dentists only recommend an extraction if there are no viable alternatives.
Myth #4: It Takes a Long Time to Heal from Tooth Extractions
The soft tissue in the human mouth is remarkable; it tends to heal quite quickly. In fact, most patients find that the bleeding, soreness, and swelling after an extraction are gone within one week or so. (Recovery from surgical extractions can take longer — perhaps two weeks or so.)
The bone at the extraction site may take several months to heal. However, this process should not affect your daily life whatsoever.
Has this blog post taught you anything new about tooth extractions? If you ever have questions about a dental procedure, ask a reliable source!
Meet the Practice
The team at New Haven Dental Group in Branford is proud to provide comprehensive oral health services, including gentle and comfortable tooth extractions. If you would like more information about how we may be able to support your oral health, contact our office at 203-439-6895.