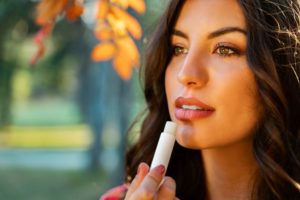 With many places reaching record high temperatures this summer, you have probably heard a lot of talk about how important it is to wear sunscreen and take other measures to prevent burns. Sadly, though, many people forget about their lips. How and why should you protect your lips from the sun? Read this blog post to discover practical information.
The Importance of Protecting Your Lips
The skin on your lips is thinner and more delicate than the skin on the rest of your body. If it is overexposed to sunlight, it can easily dry out and feel uncomfortable. It could also incur burns. Even worse, if you suffer multiple sunburns over time, your lips could develop a form of oral cancer! In fact, lip cancer is the most common type of oral cancer, with tens of thousands of cases diagnosed in the U.S. each year.
How to Protect Your Lips from the Sun
Fortunately, protecting your lips from the sun is both simple and easy. Here are some tips to that end:
Use SPF Lip Balm
Regular sunscreen can cause your lips to feel dry and irritated. Therefore, it would be wise to use a gentler SPF product to protect them. You may come across some lip balms with an SPF of 15 and others that feature SPF 30. Choose the latter so you can enjoy the most thorough protection possible.
Reapply Your SPF
Many people are diligent about wearing SPF every day. However, they may forget how important it is to reapply SPF products multiple times, especially when they are spending a significant portion of the day outdoors. Regular sunscreen should be reapplied every two hours or so, while SPF lip balms may need to be reapplied hourly. Setting a timer on your phone can help you to stay protected all day long.
Wear a Hat
A wide-brimmed hat is an excellent means for casting shade on your face and shielding your lips from the sun. To enjoy the best protection possible, choose a hat that features a UPF of 50 or greater. Many baseball caps and sunhats fit into that category.
Stay Inside During the Hottest Part of the Day
The sun's UVA and UVB radiation tends to be at its most intense during the middle of the day, between 11 A.M. and 4 P.M. If possible, avoid going outside during that period. If you have to be outdoors, try to stay in shady areas as much as possible.
Lips are a vital part of both your smile and your oral health! Protect them from the sun's harsh rays while you are enjoying the warm summer weather.
Meet the Practice
The highly skilled team at New Haven Dental Group in Branford is proud to help patients with a broad range of oral health needs. If it is time for your next oral cancer screening, or you have other concerns about how to take care of your smile this summer, we are ready to assist you. Contact our office at 203-439-6895.