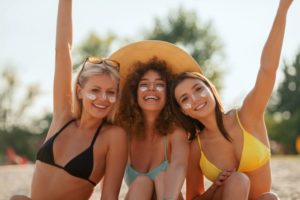 When it comes to health and wellness, the sun often gets a bad rap. You often hear warnings about how it can cause skin cancer, burns, and premature signs of aging. All of that is true. However, many people forget that sunlight can actually provide some important benefits. In fact, soaking up the sun could actually help you achieve a healthier smile! How is that the case? Continue reading to find out.
The Amazing Power of Vitamin D
When UVB rays from the sun contact your bare skin, they interact with a special protein in your body. That protein is then converted into vitamin D3, a powerful nutrient that offers some big benefits for oral health. For example, it can:
Support calcium absorption. Calcium is a mineral that plays an essential role in strong bones and teeth. The human body cannot properly absorb it if adequate amounts of vitamin D are not present.
Lower the risk of tooth decay. Research suggests that if you get enough vitamin D, you could lower your risk of tooth decay by as much as 50%.
Boost your immune system. Vitamin D fights inflammation and reduces the risk of infections. It can therefore be a powerful friend in your attempts to prevent gum disease.
How Much Sunlight Do You Need?
Sadly, an estimate published by the National Institutes of Health states that around 25% of adults in the U.S. have a vitamin D deficiency. If you believe you might be in that group, you should do what you can to increase your levels of this key nutrient. For example, you can spend more time in the sun.
The amount of sun exposure that you need depends on a few factors, such as the latitude where you live, the color of your skin, the type of clothing you are wearing, and what time of day you are outside. Most people need less than 30 minutes of midday sun exposure to get enough vitamin D. Some people with fair skin may need less than 10 minutes.
It is important to note that sunscreen can prevent your body from producing vitamin D. It might be wise to spend a few minutes outdoors without SPF on your skin. After that, though, you should implement measures to prevent sunburn.
Other Ways to Get Vitamin D
Due to the local weather or other circumstances, it is not practical for some people to get their vitamin D from the sun. The good news is that you can increase your intake of this important nutrient via other means. For example, you can get it through your diet. Items like milk, eggs, and fatty fish are all good sources. You could also start taking a daily vitamin D3 supplement.
The sun is not all bad! Spending a bit more time outdoors could greatly benefit your oral health.
Meet the Practice
New Haven Dental Group in Branford is committed to helping our community enjoy improved oral health, both through dental procedures and personalized guidance on smile care. If you would like our advice on how you can prevent oral health problems, contact our office at 203-439-6895.