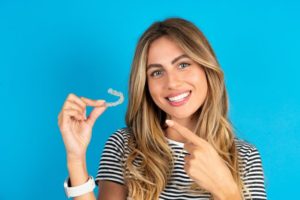 Estimates vary on how many people worldwide have misaligned teeth, but regardless of which estimate you choose to believe, it is obvious that orthodontic issues are a major issue among most populations. Are you thinking about getting your smile straightened? If so, now is the perfect time to begin your treatment. By doing so, you can show your support for National Align Your Teeth Day. Would you like to learn more about this upcoming holiday? Continue reading this blog post.
An Introduction to National Align Your Teeth Day
Since 2021, National Align Your Teeth Day has taken place each year on August 11. The holiday arose after a group of concerned dentists and orthodontists were looking for ways to raise public awareness of the potential consequences of a misaligned smile.
What are some of those consequences? Here are a few examples of what you might experience if you have untreated orthodontic issues:
You may be more prone to headaches, jaw pain, and other symptoms of TMJ disorder.
You might feel self-conscious about the appearance of your teeth and facial profile.
It could be difficult for you to eat certain foods.
You may grind and clench your teeth, thereby increasing your risk of worn-down enamel and broken teeth.
You are at an increased risk of dental decay, gum disease, and other oral health issues.
What Should You Do?
Would you like to get into the spirit of National Align Your Teeth Day and benefit your oral health at the same time? Here are a few simple steps that you should take:
Visit Your Dentist
Your dentist can evaluate the positioning of your teeth and let you know whether orthodontic treatment is right for you. They will be happy to answer your questions and help you to have realistic expectations about the journey in front of you.
Explore Your Treatment Options
Traditional metal braces are a valid treatment option for most patients. However, many people dislike them because of their highly visible brackets and wires. If that is true of you, ask your dental team if you are a candidate for Invisalign, which uses discreet plastic aligners. The aligners are even removable, so you will not have to deal with any dietary restrictions throughout your treatment period.
Care for Your Teeth and Orthodontic Appliances
Orthodontic treatment can take place over the course of several months — in some cases, it takes a couple of years. During that time, you will need to be extra-diligent about caring for both your mouth and your orthodontic appliances. For example, you will have to pay great attention to your oral hygiene routine. Your good habits will play a key role in helping your treatment to succeed.
National Align Your Teeth Day is quickly approaching! Use this opportunity to think seriously about the state of your smile and pursue treatment if necessary.
Meet the Practice
New Haven Dental Group is proud to have been in operation for decades. Our expert team offers both traditional braces and Invisalign clear aligners. If you would like to observe National Align Your Teeth Day with us this August, we warmly invite you to book an orthodontic consultation. Contact our Branford location at 203-439-6895.