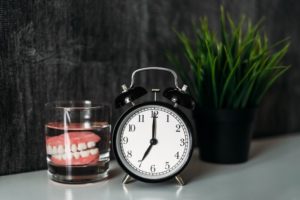 Dentures provide an attractive, reliable form of tooth replacement. In fact, after you adapt to using your new teeth, they might feel like a natural part of your smile! You could even be tempted to keep them in your mouth 24/7. But is that a good idea? How long should you wear your dentures each day? This blog post explains some important points for you to keep in mind.
The Dangers of Prolonged Denture Wear
With very few exceptions, it is not wise to keep your dentures in your mouth 24/7. Doing so could cause several problems, including:
Bacterial accumulation. Think about what would happen if you wore your sneakers 24/7 for a few weeks straight. You would very likely get an infection, and there would almost certainly be some unpleasant odors hanging around. Something similar could happen in your mouth if you do not periodically remove your dentures to let your underlying tissues get some fresh air.
Denture stomatitis. This condition causes an uncomfortable burning sensation in the mouth. It occurs as yeast and bacteria multiply on the oral tissues. It is more common in individuals who do not remove their dentures as frequently as recommended.
Challenges with oral hygiene. You should make it a habit to thoroughly clean both your denture and your mouth each day. Accomplishing this is almost impossible if you do not remove your prosthetic.
Respiratory issues. As bacteria accumulate in your mouth, you could inhale some of them. In turn, you may develop a respiratory infection
Accelerated bone loss. The jawbone tends to gradually weaken after the natural teeth are removed. Excessive denture wear speeds up this process.
So, How Long Should You Wear Your Dentures Each Day?
You can greatly reduce your risk of the above-mentioned problems if you take your denture out of your mouth each night at bed time. Place it in a glass of water or in a cleansing solution so your gums can rest while you are getting some shuteye. In the morning, give your denture a thorough rinse before placing it back in your mouth.
The only exception to this pattern should be if your dentist gives you explicit directions to wear your dentures around the clock. This sometimes happen when a patient is very new to their prosthetic.
Dentures That You Can Wear 24/7
If the idea of having your teeth in your mouth 24/7 appeals to you, ask your dentist if you are a candidate for implant dentures. Dental implants are small titanium cylinders that can get surgically placed in the jawbone; their job is to act as prosthetic tooth roots. They provide a very strong base for dentures. Plus, some types of implant dentures are permanently anchored in the mouth; they are only removed during dental appointments.
Traditional dentures should be removed each night! Your good habits in this area will help you to enjoy a healthy and fresh smile.
Meet the Practice
The experienced, highly skilled team at New Haven Dental Group has been serving our community for decades. In our Branford office, we are proud to offer traditional dentures, implant dentures, and denture maintenance services. If you have questions about replacing your lost teeth or caring for a dental prosthetic, we would be happy to speak with you. Get in touch with us at 203-439-6895.